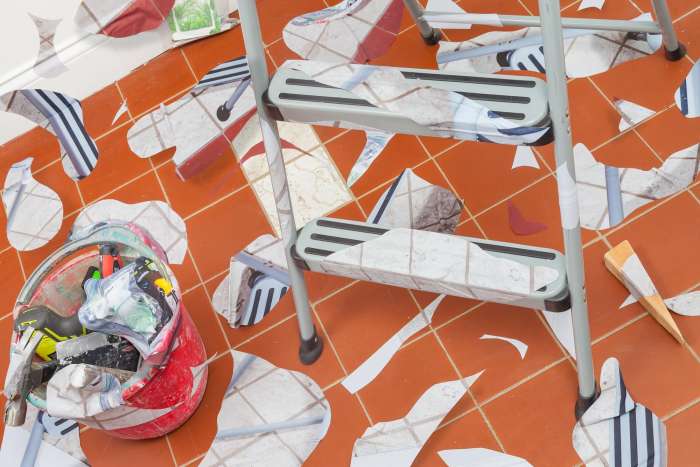 Apr 27–28, 2019 Carnegie Museum of Art
Hall of Sculpture
4400 Forbes Avenue
Pittsburgh, PA 15213 Free and open to the public
Fair
PGH Photo Fair
Join Silver Eye at the PGH Photo Fair on April 27th and 28th! We will be exhibiting work by Tim Carpenter and Robert Chase Heishman.
Tim Carpenter's project, The ancien régime, took form when he recognized a certain quality of black and white film negatives made in the heat and humidity of central Illinois in July and August. Deciding to make pictures of the formal interactions between plants, trees, and buildings Carpenter uses these images to consider what is timeless and "ancient" and what is more ephemeral, like a "regime."
Informed by his work as a set designer, Robert Chase Heishman approaches photography spatially, treating the threshold of the photograph similar to a theater proscenium.   These new works in his series AWARE ruminate on the architecture of an image, utilizing the forced perspective of the camera to build elaborate tableaux that disrupt, confuse, and play with dimensionality of space. 
We will also have portfolio boxes on hand featuring work by each of the artists in Silver Eye's ongoing exhibition, Radial Survey!
Participating Artists
Tim Carpenter is a photographer and writer who works in Brooklyn and central Illinois. He received an MFA in Photography from the Hartford Art School in 2012, and later that year co-founded TIS books, an independent photobook publisher.

Robert Chase Heishman is an artist living and working in Chicago, Illinois. He completed his BFA from the Kansas City Art Institute in 2008 and his MFA from Northwestern University in 2012. He has collaborated with the Merce Cunningham Dance Company, Sigur Rós, Radiohead, and exhibits nationally and internationally. His work is held in the collections of the Nelson-Atkins Museum of Art and the Walker Art Center.